UPDATE: Discontinuation of Complimentary SPR Support
It had been our pleasure to offer complimentary SPR support to help scientists navigate unchartered territories at the peak of the pandemic. As we move toward gaining normalcy, we are optimizing our resources to better help scientists succeed and thus will be discontinuing this complimentary support. If you have any questions or want to discuss how our SPR platforms can automate your experimental workflows, contact our application scientists today.
---
COVID-19 has changed our day-to-day lives. We are all experiencing different kinds of stress, whether it be about our health, separation from our loved ones, or any of the many significant changes we have experienced over the past few weeks. Our team feels this pressure too – and that's okay because we're all in this together. While the world is put on hold, the scientific community continues to move forward. The world needs you now more than ever.

Our mission has always been to improve human life by helping scientists succeed. Today, our mission holds stronger than ever. Humanity is counting on the scientific community to provide innovative solutions, and we are offering our resources to help in the fight.
How Nicoya is supporting researchers in the fight against COVID-19:
Continuing production to support our researchers. With the majority of our team working remotely, our production team has been able to safely continue producing OpenSPR™ instruments, sensors, and other resources to ensure our customers are fully equipped to move their research forward. Alto™ instrument and cartridge design continue as well to provide high-throughput SPR solutions to our researchers. Our production team takes every possible precaution to ensure their health and the health of others are protected.


Proven excellence in remote support. Nicoya has been providing effective remote demonstrations, experiment optimization, data analysis, installations, training and ongoing support for 8 years. We will continue providing the same level of expertise to our researchers working remotely.


Educational resources. We will be providing expanded educational blogs, webinars, and other relevant resources to our customers and the rest of the scientific community.


NSERC Alliance COVID-19 grant partnership. We are partnering with Canadian researchers to help them obtain high-quality binding kinetics data and accelerate their COVID-19 discoveries. If you're doing research on COVID-19 and having access to SPR in your lab would be valuable to your research effort, we would be interested in partnering on this funding application with you. Please contact us at info@nicoyalife.com or +1 877-673-6777 ext 1.


Providing complimentary SPR support to all researchers. Update: this offer has been discontinued. If you have any questions or want to discuss how our SPR platforms can automate your experimental workflows, contact our application scientists.

How else can we support you? Let us know by contacting us at info@nicoyalife.com or +1 877-673-6777 ext 734.
Meet your SPR experts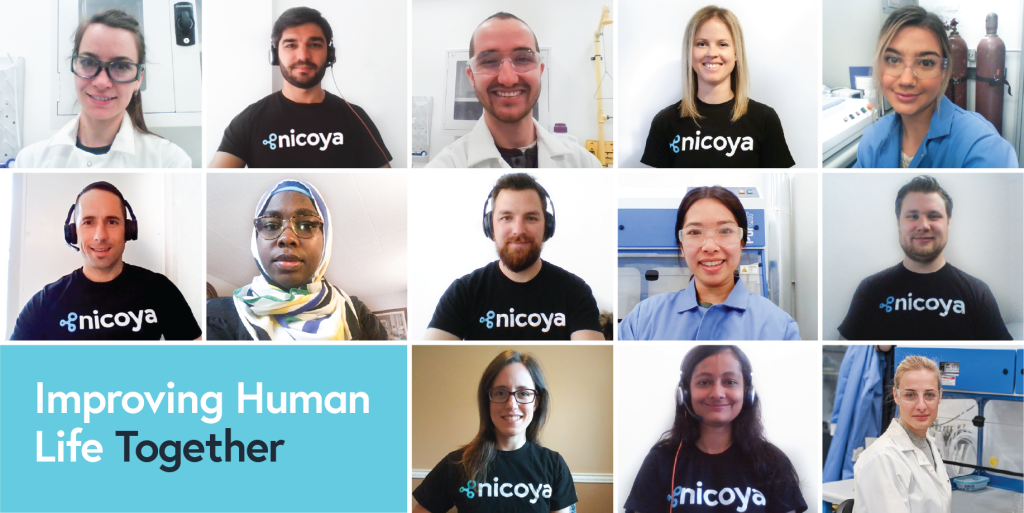 Our Customer Success Team is a group of passionate and driven scientists with doctorates in biochemistry, master's degrees in chemical engineering, and extensive industry and research experience. They have all been in your shoes, eagerly working towards their next big discovery and excelling at what they do. Some members of our team used the OpenSPR™ when they were in graduate school and did such an exceptional job that we recruited them!

From the moment an SPR expert joins our team, our Customer Success Scientists are continuously learning and sharpening their skills to be leaders in SPR. They work on countless different SPR applications from our hundreds of customers, analyzing their data and suggesting optimizations to help them get the results they need. Every one of our Customer Success Scientists is considered a valuable advisor to Nicoya – the feedback received from our customers, along with the expert opinion of these advisors, contributes directly to the design of our products.
Keeping our customers ecstatic
Our unmatched dedication. We believe that customer success is defined by more than base-level support. We don't consider our work complete until our customers have accomplished their goals. A typical SPR experimental workflow can take anywhere from a few days to a few months, and we work with our customers in every step of their experimental journey – experimental design, optimization, and creating publishable results. This frequently involves combing through heavy data sets to pinpoint areas to optimize.
We make our customers SPR experts. Have you ever heard the old saying: If you catch a man a fish he will be fed for a day, but if you teach a man to fish he will be fed for a lifetime? The Customer Success team works hard to follow the same philosophy with our customers. We do this through extensive remote training sessions, extended conversations to discuss results, and concrete explanations around why they are seeing what they are seeing.
We keep our customers successful, remotely. Our Customer Success team handles the majority of our support remotely to provide a user-friendly, efficient and accessible customer experience. In addition to the ongoing support we provide, we use a personalized remote training session to get our customers fully set up with their instrument and prepared to be successful.