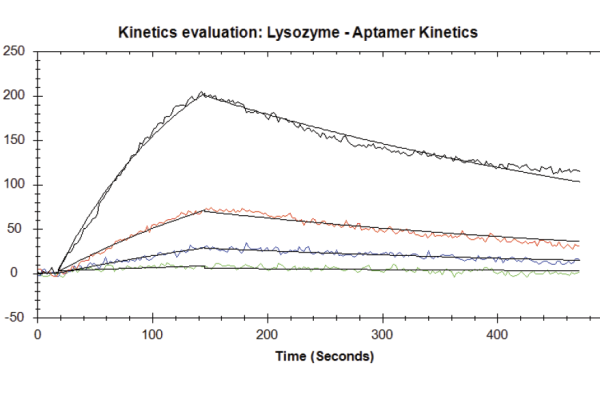 Protein-Aptamer
Ligand: Aptamer (biotinylated) immobilized onto Streptavidin Sensor
Analyte: Lysozyme
kon = 1.8×105 M-1s-1
koff = 2.6×10-3 s-1
KD = 14.6 nM
Outcomes:
Determine kon and koff (kinetics) and KD (affinity) values
Quantify levels of protein at different development stages
Yes/No binding and screening of SELEX aptamers
Screening for ligand binding partners
Specificity
Use Cases:
Aptamer characterization
Analyzing DNA and RNA interactions
Expressed protein interactions
Extracted protein interactions
Aptamer quality control
Drug discovery
Therapeutic and diagnostic applications
Aptamer biosensor development
See OpenSPR in Action
Discuss your workflows with an application scientist & see how benchtop SPR can help.
BOOK DEMO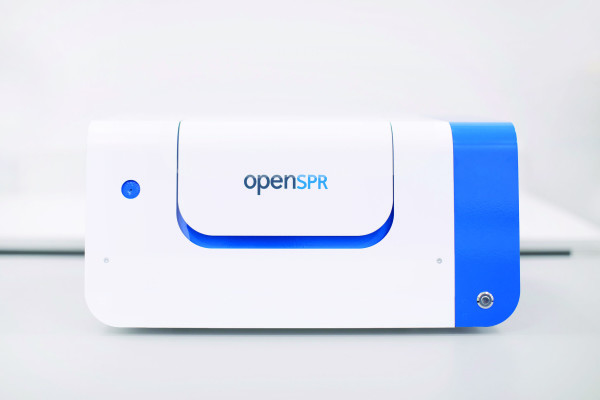 Overview
OpenSPR is the world's only benchtop surface plasmon resonance (SPR) instrument. It provides high quality, label-free interaction analysis for a fraction of the cost of existing solutions. Our unique nano-structured sensor surface uses localized SPR (LSPR) to deliver repeatable, highly sensitive kinetic data.
Make your next scientific breakthrough with OpenSPR.

Discuss your research applications with an SPR application scientist:

CONTACT US