We took a moment to look back on the key events that shaped this milestone year.
By Ryan Denomme, Co-Founder and CEO
Quick links
As another whirlwind year comes to an end, I have yet to fully grasp that it's been over 10 years since I first incorporated Nicoya. Thinking back to our early days at the Accelerator Centre, from where we shipped our very first SPR instrument as a team of 5, it's incredible to see how far we've come as both a team and as a business.
From raising over $35M, to launching the affordable OpenSPR™ and high-throughput Alto™, to partnering with Agilent Technologies, each new endeavor over the last decade was fueled by our aspiration to build accessible, high-quality products that ultimately enable life-saving scientific research. In doing so, Nicoya has certainly seen its fair share of ups and downs, but our proudest achievement lies in knowing that our mission to improve human life has lived at the heart of every decision made within our walls.
With over 500 companies and institutions around the world now choosing to trust our SPR products every day, we're excited to spend this next chapter empowering our global community of existing and new users to succeed in their research with industry-leading tools.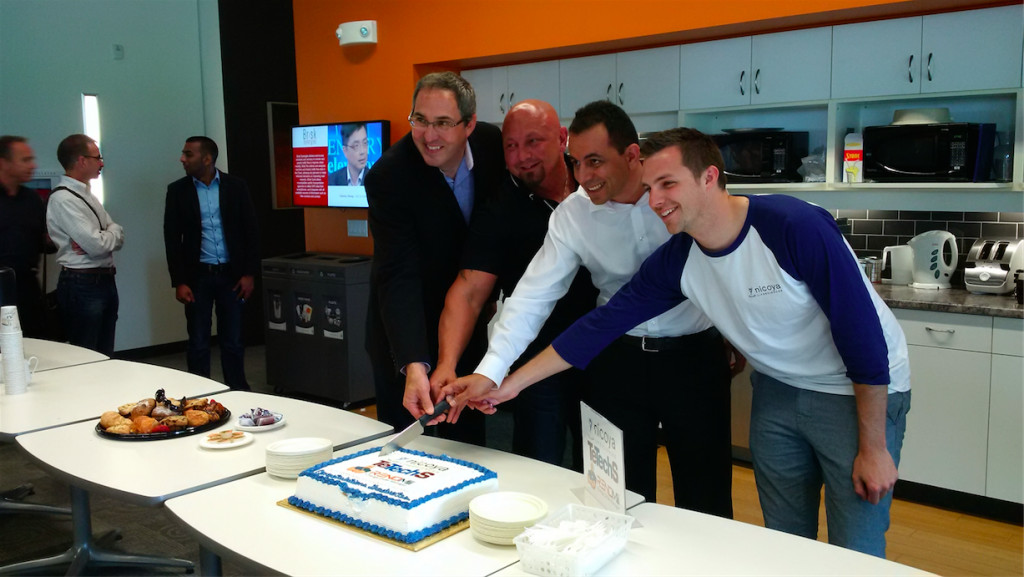 A year of milestones
2022 brought forth many exciting and positive changes at Nicoya, marking our biggest and best year to date. While there are countless pursuits and achievements that shaped this past year, I've narrowed down our biggest milestones of 2022:
We helped scientists publish in over 80 peer-reviewed publications, including 2 in Nature. From infectious diseases to cancer, our SPR platforms continue to help broaden our understanding of a wide spectrum of diseases and how to identify and treat them.
We were granted our 6th patent. We strive to ensure our users have confidence in our systems by delivering best-in-class products that are based on patented technology, and by continuing to grow our patent portfolio.
We were named Life Science Company of the year by Life Sciences Ontario. The LSO recognizes influential individuals and companies that contribute to the success of Ontario's life sciences sector, and we were proud to be recognized for this prestigious award in 2022.
We partnered with Australian diagnostics leader INOVIQ. This collaboration will enable the development of a cancer risk assessment test that will leverage INOVIQ's SubB2M™ technology and will be performed on Alto, our Digital SPR platform.
We acquired LSK Technologies: Joining forces with the LSK team and integrating their portfolio of molecular amplification and detection technology will allow us to further broaden the applicability of our platforms in point-of-need and diagnostic testing.
We opened a new lab facility in Greater Boston. With the opening of our first US-based lab facility, we've been able to better connect with prospective and existing Nicoya SPR users, as well as extend new services and collaborative opportunities to surrounding research facilities.
We received the first MIX-Knowledge Xchange grant for MedTech skill development. Professional advancement is a key priority for us in 2023, and the MIX-KX training grant will be channeled into new opportunities for internal skill building and management training.
What's new for our users?
Our $20M series A extension propelled us right into action this year in developing a robust pipeline of new features for our digital SPR platform, Alto. We listened to and implemented user feedback to successfully transform the experience of analyzing biologics with Alto, with the following being just a few of the many features we've rolled out to our customers:
Expanded protocol for screening assays: With the ability to run direct screens in cell media, lysates, supernatants, serums and more using only 2 μL of each sample, it has never been easier to rapidly screen large libraries and select your best binders. Our expanded protocol allows for screens of up to 48 unique samples in a single run. Read more about it in our tech note on antibody screening in serum.
Improved mass transport limitation (MTL) correction and detrending accommodations: Alto's analysis software features improved accommodations to account for mass transport limitations and baseline drift, both of which are automatically applied during analysis to efficiently process large sets of data. Check out our whitepapers on MTL kinetics analysis and reducing SPR signal drift to learn more.
Addition of local connectivity mode: Alto's local mode offers the same functionality and usage as its cloud mode, while providing users the option of a more traditional biosensor experience that is compatible in a variety of internal network environments. Explore additional Nicosystem features in our brochure.
Update to a light UI: The Nicosystem received a much-needed facelift with the transition to a light UI, featuring improved navigation and user prompts that optimize performance and streamline the end-to-end experience.
Learnings from the field
This year also marked the return of SensorFest, a week-long meeting that was jam-packed with intensive workshops, lively discussions, and problem-solving with the world's top biosensor experts. The annual gathering of biosensor enthusiasts finally made a comeback after a 2-year COVID-19 hiatus, and more excitingly was hosted in beautiful Vienna. And we had a blast!  
Alto was a fan favourite as attendees had the opportunity to experiment with its unique set of capabilities, including its speedy QC process, automated dilution series, and zero-cleaning protocol. Attendees were especially impressed with Alto's small, portable footprint, noting that its compact design is unlike anything else available on the market. 
After spending a week engaging with the brightest minds in this field, we brought back 4 core takeaways that we're excited to explore as we continue Alto's development:
Standardization is key. With the emergence of several new technologies for label-free detection, each bringing their own unique advantages and use cases in biomolecular analysis, there is a growing desire for standardization across software and data formats to allow for better cross-instrument transferability. Researchers commonly rely on a variety of systems for thorough characterization and analysis, and standardization can ease the learning curves and data compatibility pains of working with multiple instruments in tandem.

There is always room for optimization. Experimental optimization is arguably one of the most tedious aspects of characterizing samples with label-free techniques, often requiring years of expertise and being both resource- and time-intensive. Tools that can automate or simplify the optimization process are a welcome addition to the biosensor space, as researchers are always on the lookout for new ways of bringing more efficiency to their workflows.

Outside-the-box thinking is a must. The biosensor community is one that is both passionate and creative, which means that developers are always thinking about their next great innovation. The last decade alone has seen many examples of new technologies being creatively applied in label-free detection, resulting in the availability of alternatives beyond traditional SPR and BLI for measuring binding affinity and kinetics. To stay at the leading edge, it is critical for biosensor developers to keep up with emerging technologies and be prepared to quickly pivot.

We're a part of an awesome community. Even after spending a whole week together, we left feeling energized, excited for the road ahead, and already looking forward to the next meeting!
The road ahead
After celebrating a milestone year with the support and encouragement from our users, partners, and the biosensor community, we're diving right into the next decade of our journey with great optimism and excitement of what lies ahead. The next year will be a jam-packed year as we prepare to roll out more robust product features for biologics developers, as well as share a few of the many exciting projects we have in the works. The growth and innovation we're seeing in the biosensor technologies signals the beginning of a new era in this market, and we're fortunate to be a part of it.
Thank you to all those who have joined us on our mission to improve human life. We're looking forward to bringing you a bigger and better 2023. The Nicoya team wishes you a safe and happy holiday!