Endless pots of coffee, ferocious publication writing and many late nights in the lab. This can only mean one thing… the end of another funding cycle! Do you have leftover grant money that you need to spend before they go to waste? When research funding comes to an end, we understand how hard it is to find ways to use your leftover funding wisely while trying to meet publication deadlines. Researchers should focus on publishing, and that's why we created a list of ways to spend your leftover funding on tools such as OpenSPR so you can accelerate your research and publish within 3 months.

8 Ways to Make The Most Of Your Leftover Research Funding

Budget: Less Than $1,000 USD

1. General Lab Equipment
– Pipettors & Pipette Tips
– Microfuges
– Glassware
– Tubes
– Gloves
– Laboratory Notebooks
2. Chemicals & Reagents
– ELISA kits
– PCR kits
– Antibodies
– Enzymes
3. Educational & Reference Books
4. Host or Attend a Relevant Workshop/Seminar
6. Training and/or Development in Novel Techniques for your Research Project
Looking to get SPR training? Become an OpenSPR user and receive one free year of SPR training! 

Budget: $1,000 – $10,000 USD

7. Major Equipment
– Freezer
– Centrifuge
– Lab Shaker

Budget: $25,000 – $45,000 USD

8. Benchtop SPR
Nicoya's OpenSPR is a user-friendly and low maintenance benchtop SPR solution that is currently being used by the world's most innovative researchers. With access to SPR technology on your own lab bench, you can get the publication quality binding kinetics and affinity you need to publish. Get a quote today and get your order processed before your research funding hits its deadline.
The end of a funding cycle can be a stressful time for many researchers, and we want to make sure your leftover grant money doesn't go to waste. Now that you've explored different options, you can decide on what you should purchase to make the greatest impact on your research.

Don't have any leftover funds? Check out these upcoming grants and deadlines:
2019 Commonly Funded North American Research Grants
Why is SPR critical for publications? How does OpenSPR help?

SPR is a label-free technology which allows researchers to quantitatively analyze binding between two biomolecules. SPR technology allows us to determine the kon, koff and KD of interactions, providing deeper insight into binding events compared to other techniques that only give endpoint measurements, such as pull-down assays. SPR is necessary not only for publications but for the advancement of many fields of medicine and medical research as can be seen below with the significant increase in publications that rely on SPR data.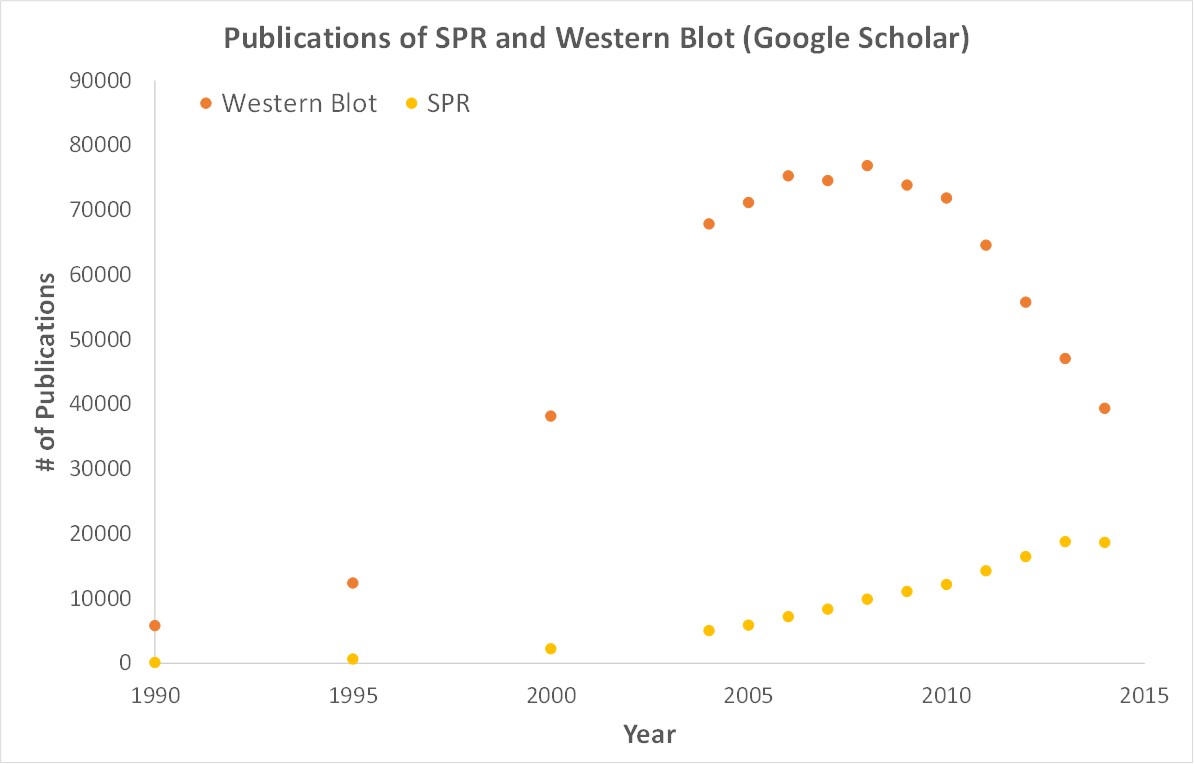 Scientific publications involving SPR have increased drastically over the years. SPR has become fundamental for publications while traditional techniques like Western Blots are becoming less important.
OpenSPR is a user-friendly and low maintenance benchtop SPR solution that is currently being used by hundreds of researchers. With access to SPR technology on your lab bench, you can get the high quality data you need to accelerate your research and publish faster.