The arrival of COVID-19 vaccines has tipped the scale in favor of winning the battle against the pandemic, but the war is far from over. Diagnostic tests, along with vaccines, are required to stop outbreaks and end the pandemic, as these tests are key to identifying potential infection vectors. As we move toward gaining normalcy and reopening economies worldwide, there is continued demand for rapid, low cost diagnostic tests that can be self-administered without the need for a trained professional. In this blog post, you will learn how we are applying our expertise in developing world-class biosensor technology to develop a portable self-administered COVID-19 diagnostic that helps meet the continued need for these tests.
Blog Overview
Why do we need rapid, portable COVID-19 diagnostic tests?
SARS-CoV-2 (COVID-19) is a novel coronavirus that has a high transmission and mortality rate. Despite the availability of multiple vaccines that can limit the transmission, demand for rapid and accessible testing solutions has remained high as many countries are seeing a resurgence in cases. As the majority of the world awaits vaccination, the need for diagnostic testing will continue to persist until we are certain that the virus has been eradicated and pan-vaccines have been developed to cover multiple strains.
The administration of these diagnostic tests needs to be rapid since COVID-19 transmission is fast, implying fast countermeasures will be most effective in halting the spread of infection. We need to remain vigilant towards subsequent waves of this pandemic, as well as new pandemics that are likely to occur in the future. To combat these challenges, we need portable and rapid diagnostic tests that can be self-administered in any environment without requiring a trained professional or dedicated diagnostic facility.
In our continuing efforts to improve human life and to help meet current diagnostic needs, we are developing Atlas: a rapid and self-administered COVID-19 diagnostic test. By building domestic expertise and capacity in diagnostic testing, Canada will be better prepared to manage current and future pandemic threats.
Atlas: A saliva-based, portable and rapid COVID-19 diagnostic test
In contrast to many of the current testing solutions, Atlas utilizes a saliva-based antigen detection method that tests for SARS-CoV-2 viral proteins. Users will be able to self-administer the test with a simple saliva collection kit and smartphone application that will take them from sample to answer in under 20 minutes. These benefits increase the accessibility of the test which will result in Atlas becoming more widely adopted globally. It's differentiated supply chain also ensures that it can be manufactured at scale. This is a vital resource alongside vaccine distribution to help slow and end the pandemic by identifying the virus in people before it can continue to spread. Atlas will meet the demand for widespread testing because it doesn't require a lab, trained professionals, or 2 – 5 days to process results like commonly used RT-PCR tests.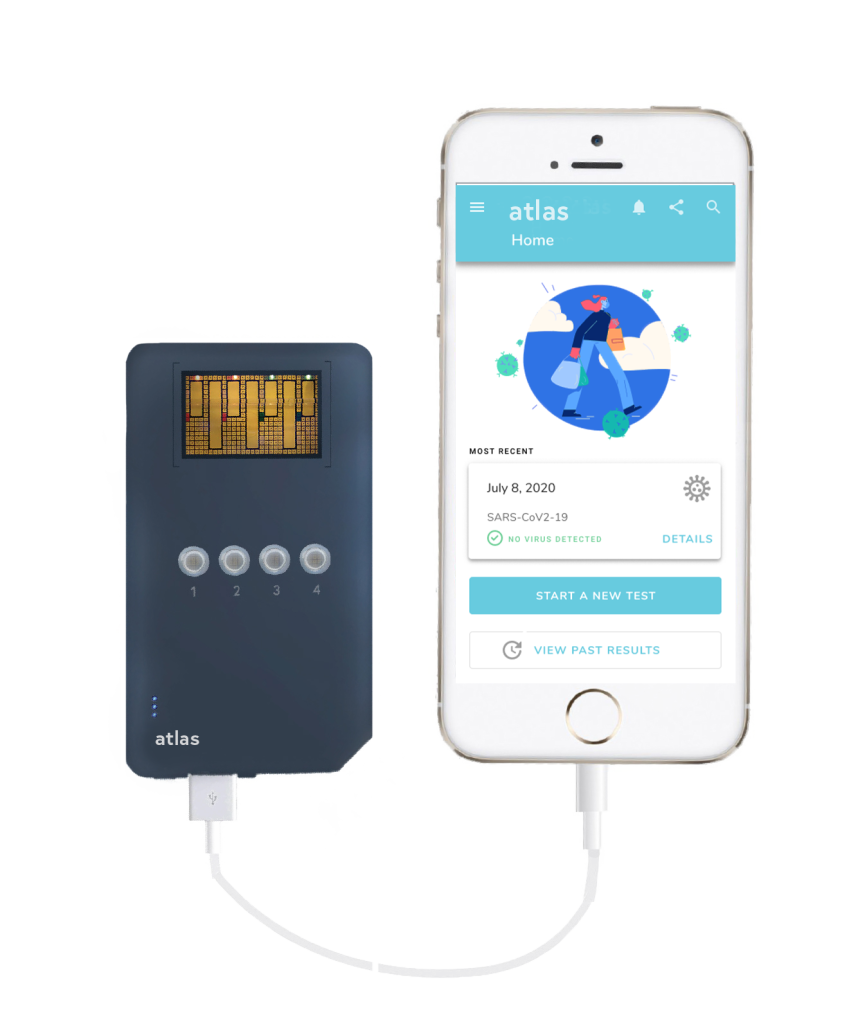 As a platform technology, Atlas is well suited to adapt to the rapidly changing nature of the SARS-CoV-2 virus, allowing it to remain effective towards viral variants and help mitigate future crises. As a test that is affordable, sensitive, and easy to use, Atlas will be widely accessible on the global stage.
Nicoya's world-class expertise backed by government support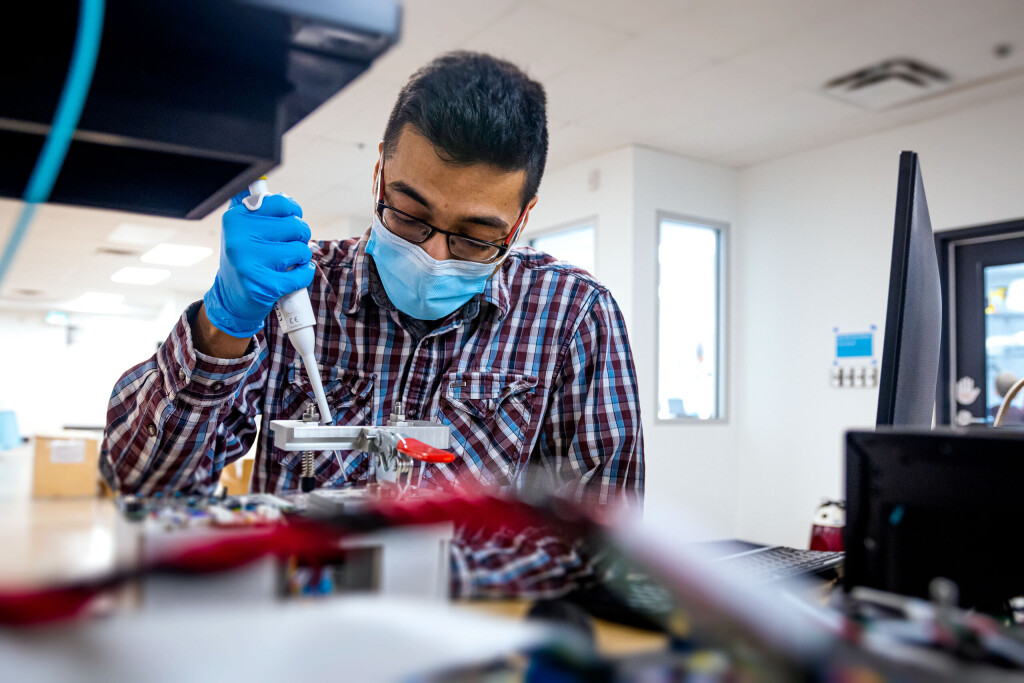 Our development of Atlas began in June 2020, when Nicoya was selected as one of four companies to receive over $299,000 in funding to develop a portable COVID-19 diagnostic test. This funding came as part of a joint challenge issued by the National Research Council of Canada Industrial Research Assistance Program (NRC IRAP) and the Public Health Agency of Canada (PHAC) via the government's Innovative Solutions Canada (ISC) program. When the challenge was announced, Nicoya's application was accepted as a result of our expertise and history of designing innovative and accessible scientific instruments.
"We're funding four Canadian companies who are working on what may be breakthrough solutions for COVID-19 rapid testing," said Justin Trudeau, Prime Minister of Canada, in a press conference last year. This initiative was designed to create a global testing solution so that we can be prepared to meet the increased testing demand caused by subsequent waves and future outbreaks.
Upon receiving the funding, our team of world-class scientists was able to leverage existing expertise in biochemistry, microfluidics, and nanotechnology to successfully prove the feasibility of Atlas. In just a few months, we were able to produce a prototype that exceeded all of the requirements for sensitivity, accessibility, and affordability as outlined by the NRC. Our ability to demonstrate the potential of this novel biosensor technology was recognized in the form of next-phase funding and advisory services of up to $1,998,592 to complete the development of Atlas.
Our mission at Nicoya is to improve human lives by helping scientists succeed. We do this by developing high-quality, accessible, affordable, and user-friendly solutions for scientists. Unlike many other point-of-care diagnostics, Atlas is able to provide PCR levels of performance without the need for complex lab equipment or highly trained technicians, which will allow everyday people to access their infectious status on their smartphone within 20 minutes. Access to this kind of diagnostic testing is vital, as it will help to control the spread of viral variants and prevent testing backlogs. Looking beyond the COVID-19 pandemic, Atlas will be useful in a variety of medical settings as a diagnostic and will keep the world prepared in the case of future outbreaks.
About us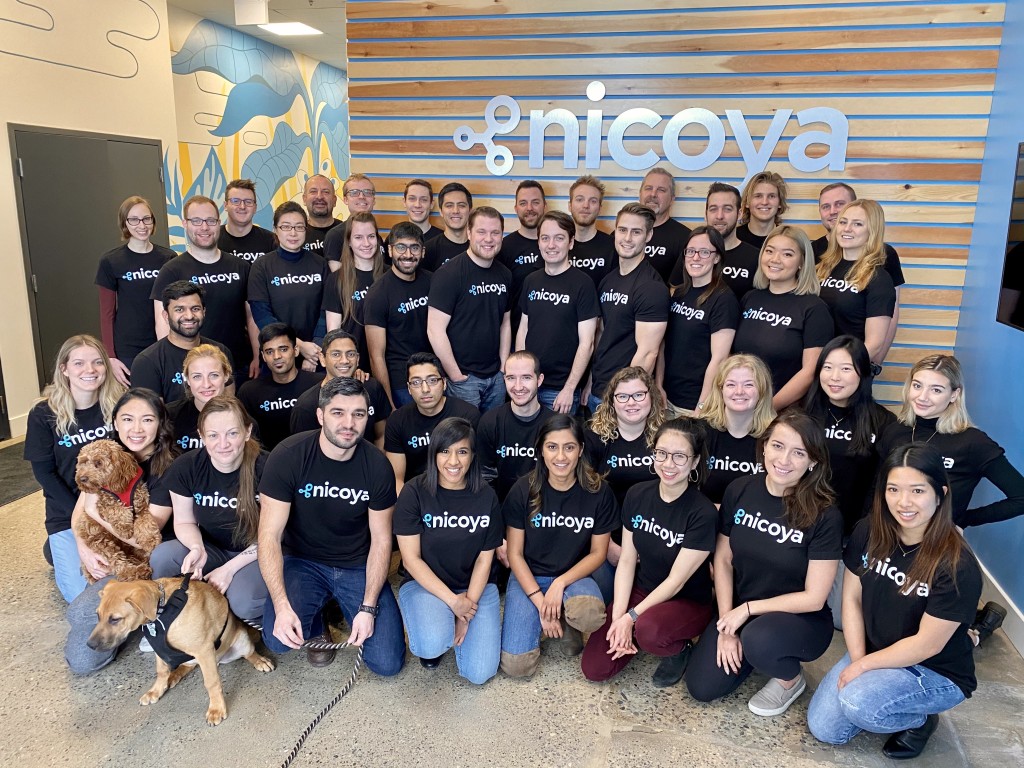 We're a leading provider of advanced analytical instruments for the biotechnology and pharmaceutical industries. Our mission is to improve human life by helping scientists succeed. Our instruments are used by hundreds of world-renowned researchers in over 40 different countries. Follow us on Twitter, Facebook, LinkedIn, and Instagram for more updates and news.
Contact us for any questions or media inquiries.
CONTACT US