Benchtop SPR for Education
The simplicity and affordability of OpenSPR make it perfect for teaching and education labs
Applications
Teach Kinetics, Affinity, Specificity & More
Cost-Effective
Very Affordable Upfront & Operating Costs
Educational Kits
Turn-Key Experiments Ready to Go
OPENSPR™ FOR EDUCATIONAL LABS
What is Surface Plasmon Resonance?
Surface plasmon resonance (SPR) is a gold standard biosensor technology used in the lifesciences/biotechnology industry. SPR is an optical label-free method of analyzing binding interactions between biomolecules. It is used in a variety of applications, such as:
Screening and developing new pharmaceuticals and new biotherapeutics
Quality control in bioprocess monitoring
Developing new diagnostic assays
Basic research such as discovering and characterizing protein function, disease mechanisms, etc.
Unlike traditional detection technologies like ELISA, SPR does not require the use of a labeling molecule. Therefore, it provides interaction measurements in real time, without time consuming, expensive, and hazardous labeling steps. This real time measurement allows the determination of on and off kinetics, affinity, specificity, and more. An example of the type of real-time data that can be generated using OpenSPR is shown below.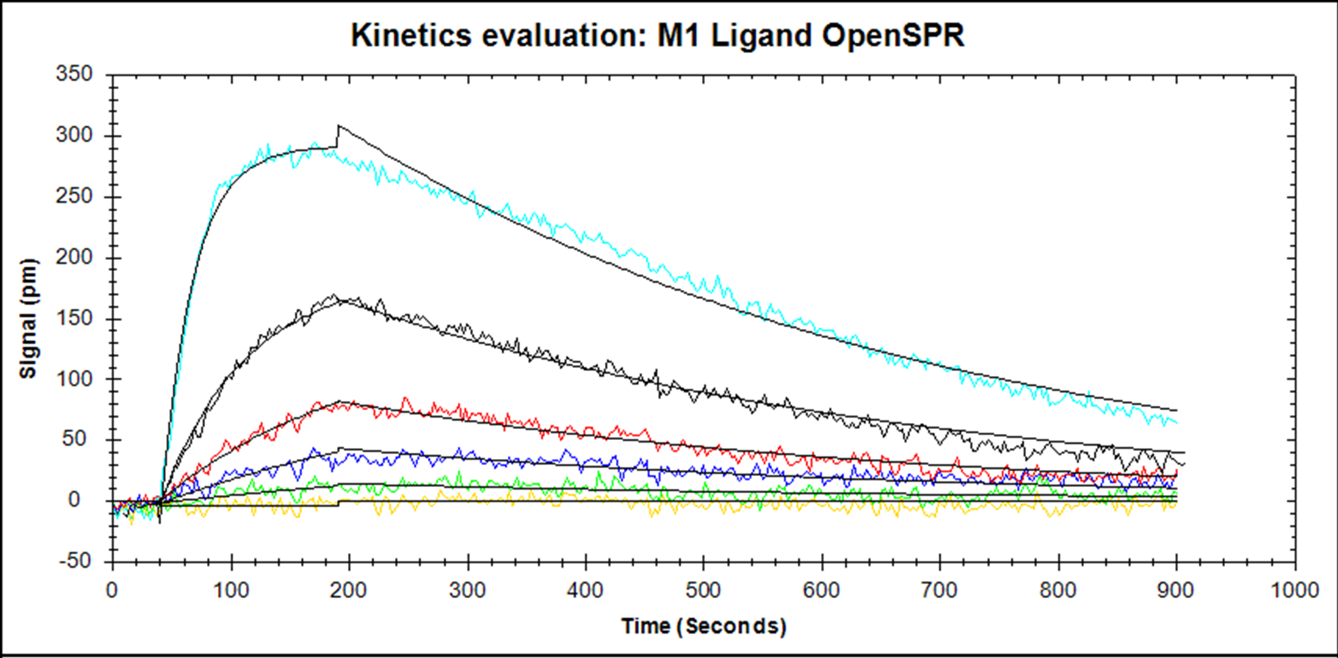 Interaction analysis of protein-protein binding using OpenSPR to determine on and off binding rates and affinity.
Why do You Need to Teach SPR?
Scientists are a driving force in the global economy. We need to train our scientists better, so they can have enough hands-on experience to innovate and make an impact in the industry they were trained for. Hence, it's important for universities and colleges to stay competitive by adopting modern technologies that students can use productively and find relevant to their future employment. Universities like Waterloo and Toronto were established with the purpose of teaching industry standards and relevant skills. When labs are filled with equipment that are no longer relevant in the 21st century, it undermines the university's mission to better prepare our students for the industry.
SPR is a technique that has been growing in popularity and importance in both research and industry. It is used by thousands of biotechnology companies and every pharmaceutical company in the world, and it is time that students be taught these skills.
By developing hands on skills in SPR, your students will be better prepared for career paths like:
Drug Discovery – Senior Scientist [i.e. Genetech]
Antibody Therapeutics – Senior Research Associate, [i.e., Visterra]
Academic Research – Research Assistant, Grad Student [i.e., University of Waterloo]
Assay Development – Scientist [i.e., Moderna]
Antibody Production – Quality Control Analyst [i.e., Exton]
Food Industry – Quality Control Analyst
Instrumentation & Devices – Design Engineer
Solid State Physics – R&D Scientist [i.e., IBM]
Vaccine Development – Biochemistry Technologist [i.e., Sanofi Pasteur Limited]
Oil & Energy – Chemistry Research Scientist [i.e., Chemistry Research Scientist]
Benefits of SPR in Your Teaching Lab:
For Students....
Gain hands-on experience with industry standard technique
Gain deeper understanding of biophysical processes with real time, open system
Connect complex kinetic concepts taught in class to real world applications
Build your resume and increase employability
For Lab Instructors....
Modernize labs by incorporating leading edge instruments and techniques
Get affordable laboratory equipment with minimal maintenance costs
Get predesigned labs and kits to minimize your workload
Improve lab ratings and student experiences
Although SPR is widely used, it is not easily accessible to most teaching and research environments. This is due to most instrument that come with a very expensive price tag (which cost over $150,000 per unit, while sensors cost over $300 each.) Conventional SPR systems are also very complex and difficult to maintain and operate, requiring weeks if not months of training.
Nicoya Lifesciences has developed a new SPR instrument called OpenSPR. OpenSPR is perfectly suited for teaching and research environments, and provides data rich, real time interaction analysis. It can provide measurements of on and off kinetics, affinity, specificity, and more. It works with proteins, antibodies, DNA, RNA, peptides, enzymes, small molecules, drugs, and other molecules.
It has a number of unique benefits such as:
Most affordable instrument and sensor chips on the market
Very easy to use and setup, with minimal training needed
Minimal maintenance is required
Compact and portable
Doubles as a spectrophotometer with the cuvette add on
Open architecture and data enhance learning and understanding compared to traditional "black box" instruments
Nicoya also offers a variety of affordable sensor chips that can come pre-functionalized to simplify and expedite ligand immobilization:
Streptavidin coated surfaces for capture of biotinylated ligands
Biotin coated surfaces for streptavidin tagged ligands
NTA coated surfaces for his-tagged ligands
COOH surface for amine coupling to any protein
Plain gold surface for custom surface chemistry
SPR Education Lab Kits
We know it is hard for lab instructors to find the time to develop new lab exercises from the ground up. That's why we developed the SPR Educational Kits - turn-key "Experiments in a box" that will have your new SPR lab up and running on day 1. Our kits include all of the buffers, reagents, protocols, and documents you need to run full SPR kinetic experiments.
Experiments are based on industry-relevant applications
Cost-effective and flexible for a variety of lab sizes and formats
Minimize development time and maximize student experience
The CD16 Educational Kit
Our first Educational Kit teaches students how to conduct a binding kinetics experiment and post-process the data to determine the kinetic constants and affinity. It uses the interaction between a model monoclonal therapeutic antibody and the CD16a Fc receptor. CD16a binding assays are essential for the development and production of therapeutic monoclonal antibodies (mAbs) and are used extensively in the pharmaceutical industry for development, validation, and quality control. An example of the binding curves from the experiment are shown below. For more information, download the application note. The kits can be purchased directly from our online store.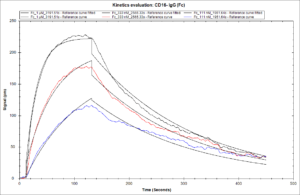 Binding curves of IgG binding to CD16 using OpenSPR Educational Kit
See What Our Customers Are Saying
Some of the World's Leading Educational Institutions Use OpenSPR
"OpenSPR will give students a huge learning advantage. With Biacore, if you could afford it, you wouldn't want it being run by 50 undergrads, so a technician would probably run it. That would be a very different experience for the student. With OpenSPR, they can actually do the work themselves in small groups, giving them a far greater impact and learning advantage. They can work with the system themselves; that's really cool."
Dr. Thorsten Dieckmann

Speak with our Educational Experts
Our scientists are available to help you integrate SPR into your lab - sign up today and we will get back to you in a flash!