Benchtop SPR for Education
Novartis, Pfizer, and Merck rely on SPR. Keep your students ahead.

OpenSPR for Educational Labs
What is Surface Plasmon Resonance (SPR)?
Surface plasmon resonance (SPR) is a gold standard biosensor technology used in the lifesciences/biotechnology industry. SPR is an optical label-free method of analyzing binding interactions between biomolecules. It is used in a variety of applications, such as:
Screening and developing new pharmaceuticals and new biotherapeutics
Quality control in bioprocess monitoring
Developing new diagnostic assays
Basic research such as discovering and characterizing protein function, disease mechanisms, etc.
Unlike traditional detection technologies like ELISA, SPR does not require the use of a labeling molecule. Therefore, it provides interaction measurements in real time, without time consuming, expensive, and hazardous labeling steps. This real time measurement allows the determination of on and off kinetics, affinity, specificity, and more. An example of the type of real-time data that can be generated using OpenSPR is shown below.
Interaction analysis of protein-protein binding using OpenSPR to determine on and off binding rates and affinity.
Why do you need to teach surface plasmon resonance (SPR)?
Scientists are a driving force in the global economy. This is why we need to educate our aspiring scientists with the latest research technology and techniques, so that they have enough hands-on experience to innovate and make an impact. In the past five years, there has been over 35,000 scientific publications involving SPR. SPR is a technique that has been growing in popularity and importance in both research and industry. It is used by thousands of biotechnology companies and every pharmaceutical company in the world. Set your students up for success with OpenSPR - the ideal solution for instructors looking to incorporate SPR into their labs. By developing hands on skills in SPR, your students will be better prepared for career paths like:
Drug Discovery – Senior Scientist [i.e. Genetech]
Antibody Therapeutics – Senior Research Associate, [i.e., Visterra]
Academic Research – Research Assistant, Grad Student [i.e., University of Waterloo]
Assay Development – Scientist [i.e., Moderna]
Antibody Production – Quality Control Analyst [i.e., Exton]
Food Industry – Quality Control Analyst
Instrumentation & Devices – Design Engineer
Solid State Physics – R&D Scientist [i.e., IBM]
Vaccine Development – Biochemistry Technologist [i.e., Sanofi Pasteur Limited]
Oil & Energy – Chemistry Research Scientist [i.e., Chemistry Research Scientist]
OpenSPR
Accelerate your research with binding kinetics & affinity data on your benchtop.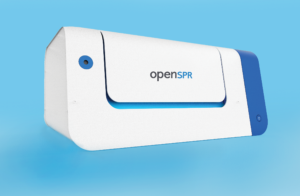 Although SPR is widely used, it is not easily accessible to most teaching and research environments. This is due to most instrument that come with a very expensive price tag (which cost over $150,000 per unit, while sensors cost over $300 each.) Conventional SPR systems are also very complex and difficult to maintain and operate, requiring weeks if not months of training. Nicoya Lifesciences has developed a new SPR instrument called OpenSPR. OpenSPR is the world's only benchtop surface plasmon resonance (SPR) instrument. It provides high quality, label-free interaction analysis for a fraction of the cost of existing solutions. Our unique nano-structured sensor surface uses localized SPR (LSPR) to deliver repeatable, highly sensitive kinetic data. OpenSPR is Perfect For:
Academic researchers

Central facilities

Industry R&D, CROs
Applications:
Kinetics/affinity characterization
Competition assays
Target identification
Epitope mapping
Screening
Yes/No binding
Concentration
Compatible With:
Proteins
Lipids
Carbohydrates
Antibodies
Nucleic acids
Small molecules
Cells
Viruses
Nanoparticles
& more
OpenSPR Education Lab Kits
We know it is hard for lab instructors to find the time to develop new lab exercises from the ground up. That's why we developed the SPR Educational Kits - turn-key "Experiments in a box" that will have your new SPR lab up and running on day 1. Our kits include all of the buffers, reagents, protocols, and documents you need to run full SPR kinetic experiments.
Experiments are based on industry-relevant applications
Cost-effective and flexible for a variety of lab sizes and formats
Minimize development time and maximize student experience
The CD16 Educational Kit Our first Educational Kit teaches students how to conduct a binding kinetics experiment and post-process the data to determine the kinetic constants and affinity. It uses the interaction between a model monoclonal therapeutic antibody and the CD16a Fc receptor. CD16a binding assays are essential for the development and production of therapeutic monoclonal antibodies (mAbs) and are used extensively in the pharmaceutical industry for development, validation, and quality control. An example of the binding curves from the experiment are shown below. For more information, download the application note. The kits can be purchased directly from our online store.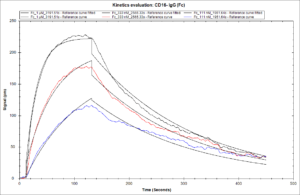 Binding curves of IgG binding to CD16 using OpenSPR Educational Kit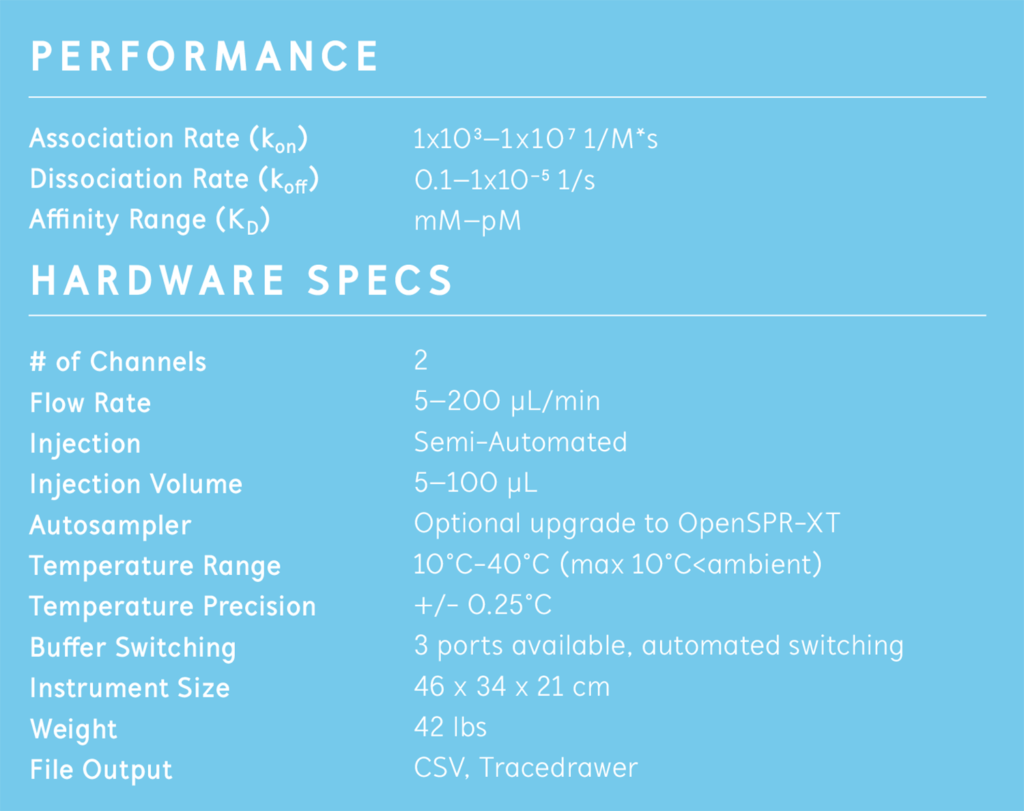 Speak with an application scientist:
Our SPR experts are available to help you integrate SPR into your lab and make your research project a success. Sign up to speak with one of our experts today.